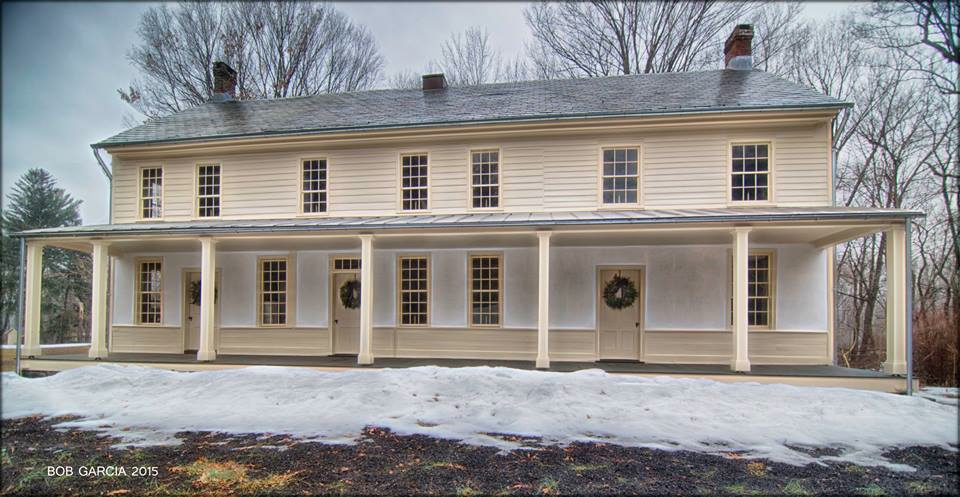 Supplemental archeological investigation, including shovel tests and ground-penetrating radar, has been completed on the property in order to further document the site's historical significance and catalog period artifacts. Exterior painting and siding is complete on all buildings, as well as reconstruction of the front porch on the Farmstead Tavern House.
Funding is in place and planning has begun for the final phases of renovation that will make Ramsaysburg a fully functional site for a wide range of public activities, providing enormous benefits for our local community and surrounding region.
• A well and septic system to supply plumbing for the main house (tavern), barn and utility shed
• Main house heating system
• Main house interior completion: floors, walls, trim, paint
• Main house rear porch completion with restroom and disability access 
• Utility shed: catering kitchen and restrooms
• Barn interior
What are the long range plans?
Without the tavern, barn, tenant house, smokehouse and other structures, the property at Ramsaysburg would be just another bucolic greenway along the banks of the Delaware River. With the structures stabilized, preserved and recycled with adaptive new arts and culture uses, these structures will bring life and meaning to both the site and its river-trade history. The rural landscape and its five buildings offer powerful personal encounters with Ramsaysburg's early river-related commercial and social history. Visitors exploring the site will experience the cultural changes wrought by the extraordinary confluence of river, railroad and highway innovations. The site also introduces and provides links to the area's abundant cultural resources to be found in historic villages and along scenic byways.
The Friends of Ramsaysburg operates with guidance from the organization's exhaustive, long-range Interpretive Plan, presenting broad visions for Ramsaysburg's future pertaining to heritage tourism, education, recreation, arts and culture, as well as many specific suggestions for activities that may occur in the future.
Who are the Friends of Ramsaysburg?
The next chapters in the Ramsaysburg story will be created mainly through the efforts of The Friends of Ramsaysburg, a non-profit organization responsible for implementing all the amazing things that the site might become. Advisory Board members will recommend strategies for using the site as an venue for arts and culture, historical interpretation, environmental education and recreation. Ramsaysburg's continued success depends on one thing: community participation. Your involvement at any level is crucial, and your ideas and suggestions are heartily welcomed.