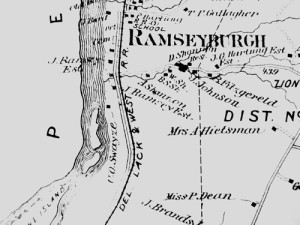 Catering to both road and river traffic and commerce, the tavern and about 50 acres along the Delaware River in newly-formed Knowlton Township appealed to brothers James and Adam Ramsay in 1795. The prime location, complete with a tributary cascading from the mountains into the Delaware River, held unlimited potential. As James became a prominent political figure, serving as County Freeholder as well as on the Knowlton Township Committee, the hamlet of Ramsaysburg, solely owned by James since 1801, prospered.
A Post Office was established in 1827, followed by the tavern, a store, an Episcopal Church and several homes by 1834. Census records show an extended Ramsay family living at the homestead site, along with several tenant families. A hotel was shown as operating at the site in 1852, and the "Ramsay and Swayze" lumberyard, complete with a sawmill, was advertised in local newspapers as early as 1850. A blacksmith shop was also located on the Ramsay property.
The Ramsay family heirs retained ownership of the entire property until 1885, when a portion was sold. The remainder was lost in a court-ordered sale in 1950. Both portions apparently became owned or managed Myron Gilbert, who successfully ran the Spring Brook Farm Hotel resort, begun by a previous owner in 1901, after the sale of the first portion of the Ramsaysburg property. Gilbert is said to have run the resort for many years. The hotel, along with some of its original property, was sold in 1987 to new owners, whose plans to open a bed-and-breakfast there were dashed when the building was destroyed by a 1997 fire.