On Saturday, September 26 at 6 p.m., the Knowlton Township Historic Commission (KTHC) presented the last in this year's series of free concerts in the barn, featuring The Gary Staples Trio with special guest Nelson Hill. The members of this group are storied musicians with many years of experience who have played with the likes of George Benson, Maynard Ferguson, Dave Brubeck, and Clark Terry among many others. They have performed all over this country and all over the world including Europe, Japan and South America. Their schedules include appearances at the United Nations and The White House for President and Mrs. Obama.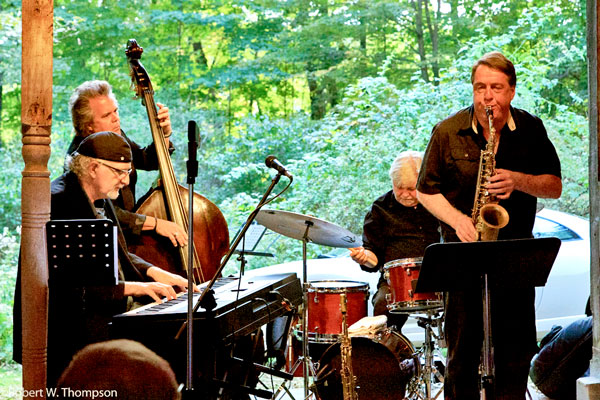 The program included songs from The Great American Songbook, popular jazz standards, and few surprises.

Gary Staples has been playing and performing since an early age on Hammond B3 organ and piano. He studied jazz at Berklee Conservatory of Music in Boston, and has performed all over the country and in Europe with his own ensembles as well as working with such notables as guitarist George Benson. Gary is known for his complex, yet tasteful interpretations and his uncanny sense of accompaniment.  He continues to stay on the top of studios and players' 'first call' list as well being in demand as a group leader.
Nelson Hill graduated from The Eastman School of Music and then toured and recorded for years with Maynard Ferguson. Nelson has played with Tony Bennett, Frankie Valli, and Wayne Newton among others. He is in demand all over as a group leader and sideman for performing and recording purposes.
This concert was made possible in part by a grant from the Warren County Cultural and Heritage Commission. Further information about the Ramsaysburg Historic Homestead can be found on the Ramsaysburg Historic Homestead Facebook page.